Published: 16 November 2021

It's the time of the year again to plan your annual Christmas dinner. Resorts World Sentosa is all set to bring additional joy to the merry affair. From delectable Pisan specialties to exquisite Japanese fusion dishes to Michelin-starred European culinary delights and more, nosh your way with these delicious options at the resort for the perfect Christmas with your family and friends.
If you're looking for some Festive Takeaway Goodies, read through to the end for a bountiful spread of Yuletide highlights.
CURATE CUCINA PISANA
While the borders may be opening up, you don't have to travel far to have a taste of authentic Italian cuisine. Helmed by Chef Davide Bizzarri, get ready to take your taste buds on a trip to Pisa, Italy with the four-course set menus at CURATE CUCINA PISANA. One dish you have got to try from the festive menu, available from 1 December onwards is the Cervo e Castagne, venison marinated in dark cocoa and served with Chianti wine sauce. The dark, bitter chocolate is a perfect match to the gamey venison, and when paired with 2018 Mastrojanni Rosso di Montalcino... it is simply *chef's kiss*.
Sinfully decadent Italian desserts that will warm your hearts, and your tummies await you at the end of the meal too!
Syun
This nouvelle Japanese cuisine might just be the ideal Christmas meal for you this festive season. Savour the freshest seasonal ingredients, such as spiny lobster, seared toro and sea urchin, from the special Japanese fusion menu prepared carefully by our maestros. A must-try dish would be the Seared Toro with Yuzu Karashi-Sumiso, which is a traditional Kaiseki-style Japanese dish. The citrusy and umami flavour will get you craving for more delectable dishes from the 6-course set menu.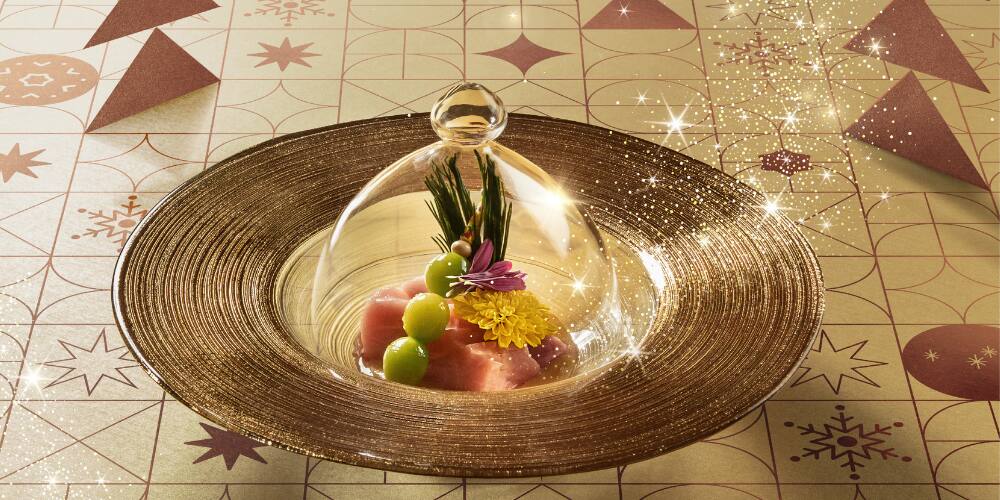 You'll also want to complete the meal with exquisite sakes that are only available during this festive season.
table65
Readers of the Michelin Guide and all food lovers should be no strangers to this modern European restaurant. Michelin-starred table65 is ready to serve up a holiday feast for you and your loved ones. Indulge in our Osetra caviar dish, where the nutty taste, coupled with a good burst that shares the bold flavours of the sea, will send you to cloud nine. Not forgetting the rare white truffle served with potato gnocchi, where the dish will not only be a treat to the eyes but the wonderful aroma will also be tantalising. And just when you think the meal can't get any better… Cap off your meal with the visually stunning Chocolate Balloon. Snap some photos and share it on your social media while you're at it and you're bound to impress everyone!
Osia Steak & Seafood Grill
Food tastes better when shared. It's even better if it's delectable platters of the finest seafood and red meats. Share the festive joy as you feast on the array of grilled seafood specialties such as Boston lobster, king scallops, Abrolhos octopus and more, as well as platters laden with prime Australian cuts grilled to smokey and succulent perfection.
This hearty meal ought to put you in the best festive mood!
Feng Shui Inn
One of the Christmas celebration essentials has got to be turkey! Celebrate the season's merriment with Feng Shui Inn's unique Christmas Baked Turkey Surprise! Break open the encrusted flour to have a crack at the delicious, fall-off-the-bone meat with the aroma of the herbal marinade wafting across the table.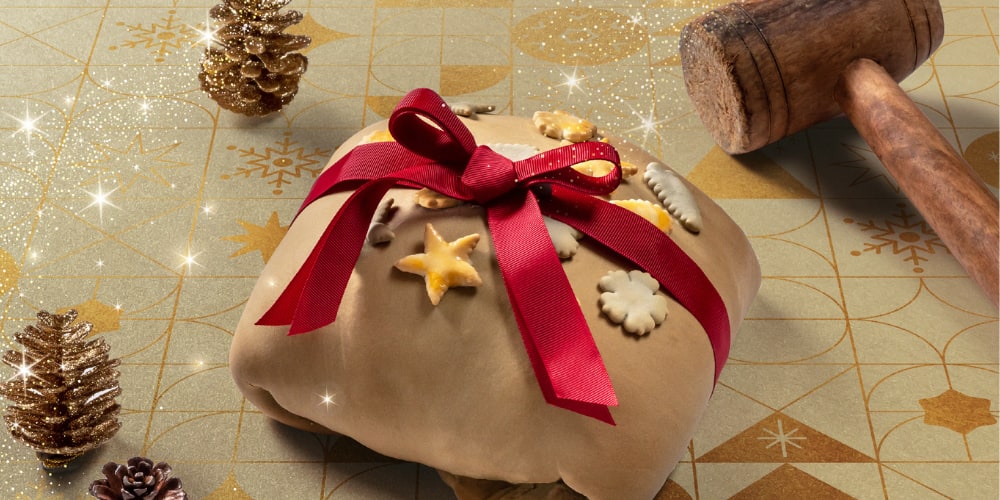 You are certainly in for a treat this festive season with Resorts World Sentosa. Read on to find out more about the Mastercard® Exclusive discounts.
Festive Takeaway Goodies
Hosting your family and friends for Christmas dinner does not have to be stressful. Dazzle the crowd with Yuletide goodies from us - think a massive 3kg Festive Tomahawk Roast, a Ruby Chocolate Yule Log with Raspberry and many more!
If you're a stickler of Christmas traditions, the delicious Turkey Wellington, Whole Roasted Turkey and Honey Glazed Ham are also available for order.

Beyond the sumptuous dinner, Christmas Gift Sets are available for order too - choose between the Deluxe Gift Set or Indulgence Gift Set, we've got you covered!
Mastercard® Exclusive:
Early Bird Promotion
1 Nov to 12 Dec 2021

Festive Dining
Pay by Mastercard and enjoy 30% off all Christmas menus when you spend SGD300 (SGD250 for RWS Members), limited time only!
Enter promo code: RWSMC30 when making your online reservations.

Festive Takeaway Goodies
Order your festive roasts, goodies and hampers early to enjoy 30% off and a complimentary SGD80 dining voucher to spend at any RWS restaurant. Valid when you pay with your Mastercard. Enjoy free delivery when you spend at least SGD300.

Find out more about Resorts World Sentosa Festive Dining and Festive Takeaway here.