Published: 11 September 2020

5 Things to Marvel at the All-New Aqua Gastronomy Experience
Looking for an out-of-this-world dining experience? One that boasts stunning views, gastronomic bliss, and pure comfort? Enter #AquaGastronomy, an all-new, multi-sensory experience at S.E.A. Aquarium, Resorts World Sentosa that marries the best of culinary artistry and visual splendour!

We've summed up five of the most marvelous things about the spellbinding Aqua Gastronomy, and why you really shouldn't miss this limited-time experience!
1. 8 Instagram-worthy bespoke pods
The first thing you'll notice when entering the dining space are the dining pods that shimmer and glow alongside majestic marine life – imagine you're plunged into the Lost City of Atlantis, against the backdrop of glistening corals and dancing light rays. Yup, it's the kind that will blur the boundaries between reality and fantasy. (We secretly hope Aquaman will emerge). Plus, not only do these pods enhance the dreamy underwater realm, they provide the perfect setting for exclusive and intimate dining, and are safely spaced 1.5m apart.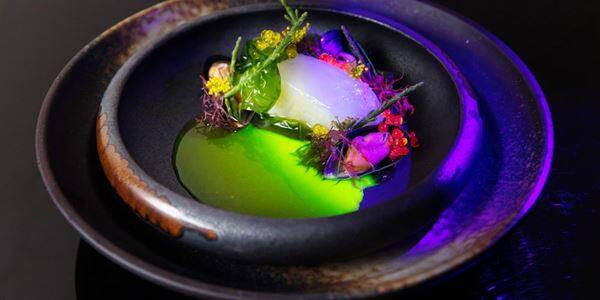 Shining Seas by Chef Marvas Huang features sustainably-farmed Kühlbarra seabass, clams, luminous shiitake essence, fried Japanese pearl rice.
2. With great dining comes greater responsibility
What's on the menu, you ask? Specially designed by Chef de Cuisine Marvas Huang of Ocean Restaurant and Chef de Cuisine Tony Choo of Forest森, the four-course dinner menu pays homage to the abundance of fascinating treasures in the ocean. Poetically named Misty Morning Sea, Ocean's Reflections, Shining Seas and Treasures of the Ocean, these exquisite visual creations feature 100% sustainably sourced seafood that have been meticulously selected to ensure their farming, fishing or catching methods have minimal environmental impact. It's not just food that looks and tastes amazing, it's great for the environment too!

In support of the Singapore Food Story, the chefs first looked to local fisheries Barramundi Asia and Ah Hua Kelong which farm high quality seabass and shellfish respectively using sustainable practices. These not only allow us to showcase the freshest and premium ingredients, but also reduce Aqua Gastronomy's carbon footprint.
Check out the full four-course menu and signature drinks menu.
3. Jaw-dropping view of the Open Ocean Habitat
Why settle for that (typical) skyline view when you can have a breathtaking sight of over 40,000 marine animals at S.E.A. Aquarium's most iconic habitat? Yes, you're dining right in front of that famous spot you often see on IG feeds. The Open Ocean Habitat is home to reef manta rays, hammerhead sharks and giant groupers and more!

While you're enjoying the food, try spotting S.E.A. Aquarium's three male manta rays:
Mika, identified through a black stripe on his underbelly, is a curious and friendly manta who can be seen somersaulting underwater during feeding time.
Mako, the largest ray with an almost fully black body and towering presence.
Manja, the smallest amongst the three, bears a heart-shaped mark on his underbelly and who loves twirling around the aquarists during feeding time.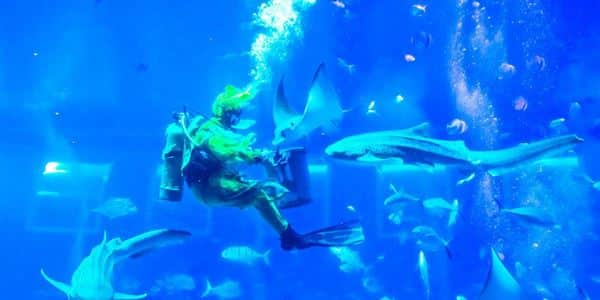 4. The ultimate multi-sensorial experience
As each course is served, rich theatrics are set in motion to excite and captivate your sense of taste, sight, smell, and sound. The whole experience is enhanced by a bold mix of dynamic lighting effects, atmospheric music and delectable cuisine. And then there's that memorable underwater presentation that involves an aquarist, all decked out in a customised sea-themed outfit, handing out food for the underwater residents. Yes, the fishes get to feed too! It's one feeding frenzy that is set to make you go "ooh" and "ahhh".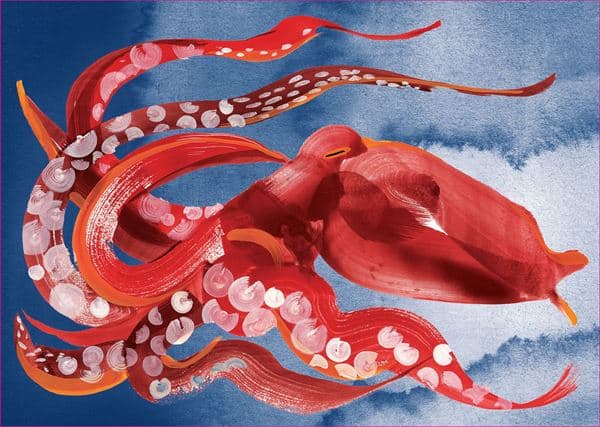 #SupportLocal – Bring home an artwork by Singaporean illustrator Wu Yanrong.
5. Gifts from the Ocean
Can't get enough of the ocean? Bring home the magic of the sea with you, with exclusively designed marine-themed postcards as well as a jar of housemade Japanese kelp sea salt. You can admire the whimsical yet lifelike illustrations of S.E.A. Aquarium's marine animals by Singaporean artist Wu Yanrong. The special collaboration between RWS and Wu underscores a shared mission to inspire protection of marine life and their habitats. Fun fact: Wu's work has graced the boutique window displays of luxury French label Hermès with her signature calligraphy-style brushstrokes.


Aqua Gastronomy is held at S.E.A. Aquarium from now till Oct 31. This pop-up experience is currently fully booked, but you can sign up for update here.