Published: 25 November 2020

Your Complete Island Christmas Getaway at RWS
The ho-ho-holidays are here! Yeah, we're all bummed that overseas travel plans have to be shelved for now, and the kids (and adults) are getting restless from staying home. Fret not - we've planned the perfect festive getaway at Resorts World Sentosa for you to head out, play, dine and even stay with us.

And to make your Christmas with us even merrier, Singapore Residents get a FREE exclusive face mask with every Adult One-Day Ticket purchased to Universal Studios Singapore and S.E.A. Aquarium. Grab them while stocks last!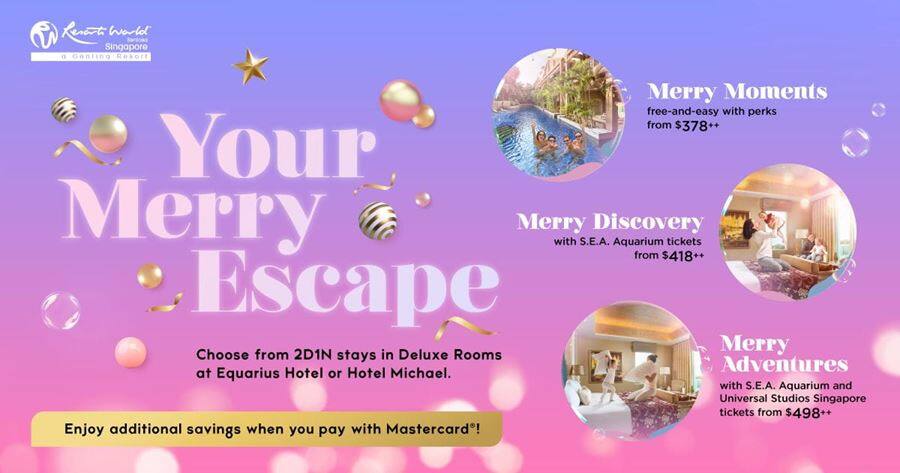 All-Inclusive Staycation Packages at RWS
All pumped up for an island getaway? Pack your bags and go for a relaxing Sentosa holiday with our attractive all-inclusive staycation packages at the eco-luxurious Equarius Hotel or art-inspired Hotel Michael. From S$378++ a night, you can enjoy the abundance of festivities across RWS packaged with daily breakfast, attraction passes to Universal Studios Singapore and/or S.E.A. Aquarium, complimentary parking and more. Pay by Mastercard to enjoy S$50 nett off each package!

For those who aren't keen on staying the night, you can always grab our daycation package at only S$99 nett, which includes a whole suite of perks - One-Day Adult admission tickets to both Universal Studios Singapore and S.E.A. Aquarium, complimentary set meal, and more. Does that sound awesome already? Book yours here.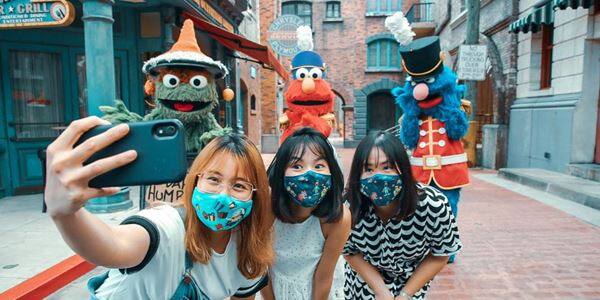 A Universal Christmas at Universal Studios Singapore
(Now - 3 January 2021)
Christmas has always been a photo-worthy time to visit Universal Studios Singapore. Your favourite characters are all decked out in their festive best and ready to fill you with Christmas cheer!

Be sure to get your phones ready at the glittery Hollywood Lagoon stage for The Merry Minions of Christmas featuring six of Illumination's Minions – Kevin, Dave, Bob, Stuart, Jerry and Tom, as well as Sesame Street's Elmo, Cookie Monster, Oscar and friends! And if you'd like to do a boogie, DreamWorks Animation's cast of characters, Alex, Gloria and King Julien are all set to dance along with you at Madagascar's A Tropical Christmas. There are meet and greet sessions with characters in different zones so download the official Universal Studios Singapore mobile app on the App Store or Google Play and check the latest timings.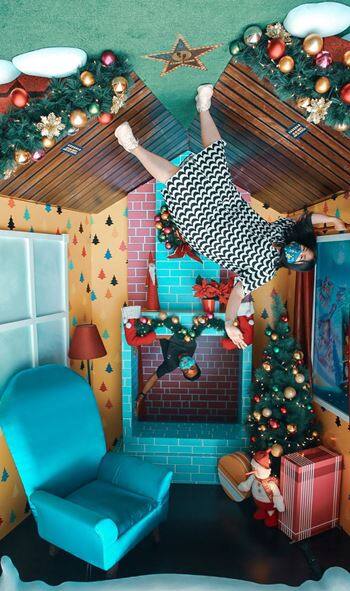 This year, the glamorous streets of New York transform into Santa's own magical movie land with Lights, Camera, Christmas! Filled with interactive movie sets, you can step into a hot air balloon in Up! Up! And Away With Christmas and meet original, eclectic characters such as Candy Air-Heart, the most courageous Christmas treasure hunter ever! Don't forget to fill your feeds with lots of photos at the upturned house of Mr. Tinsel Turvy, and see Christmas from a different angle – upside down!

If you're a fan of carnival games, we've recently introduced a section at Sci-Fi City where you can put your tossing and rolling skills to the test at Meteor Smash, Astronaut Tubs and Cosmic Rings, with colourful mementos up for grabs.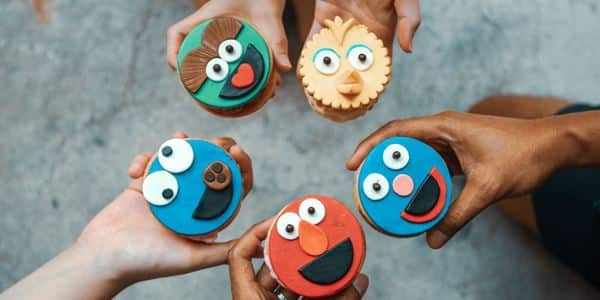 If all the selfies and thrilling rides have left you famished, cool down with an adorable Sesame Street Ice Cream Sandwich which come in vanilla, strawberry and chocolate flavours at the Me Want Cookie cart. Otherwise, try our Christmas Jolly Jello, a jiggly delightful dessert topped with colourful marshmallows or snacks such as the Spicy Crab Taco and Crispy Tortilla Chips at the Mexican Snacks cart in Hollywood. For a hearty option, go for the delectable Xmas Wreath Pizza available at Loui's NY Pizza Parlor.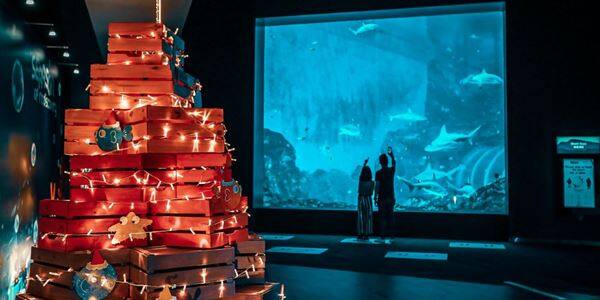 A SEAASON of Rediscovery at S.E.A. Aquarium
(Now - 5 January 2021)
When was the last time you visited S.E.A. Aquarium? Well, there's a lot more to SEAA and rediscover with refreshed marine life content and immersive audio-visual experiences. Yes parents, it's time to switch off those tablets/screens and explore the fascinating marine realm in the comfort of the aquarium. Who knows, you may even spot some (real) baby sharks along the way. The aquarium has expanded by over 1,000 square metres and is now re-zoned into nine distinct areas, introducing curious minds to over 100,000 marine animals.

Some of the zones include:
Underwater City: Explore the colourful world of corals and discover the amazing coral reefs found in Singapore
Ocean Diversity: Are all animals that live in the ocean, fish? Challenge pre-conceived notions and discover other animal groups living in the ocean.
Quirky Adaptations: Discover unique features on animals that ensure their survival in the deep blue sea.
Fun fact: Our marine animals look a lot like Christmas too! Imagine snowfall by gazing at the snowflake moray eel which resembles powder snow; and the pinecone fish, so-named after the woody conifer fruit featured on Christmas trees. Go on a trail to spot these animals, and scan the QR code near the habitats to learn more about them.
Don't forget to pop by stations such as the Gifts Galore Gift Box, Coral-ful Wall and a spectacular Christmas tree, upcycled from used crate boxes.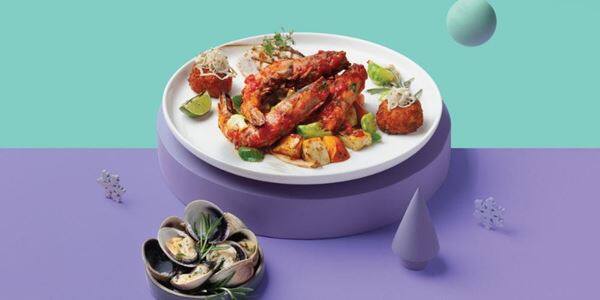 Festive Feasts
What's Christmas without some festive feasting with your loved ones? Head over to one of our award-winning celebrity chef restaurants such as Michelin-starred table65, Osia Steak and Seafood Grill for its sizzling premium grilled steaks and Syun for nouvelle Japanese cuisine.

We want to see the smiles on your faces as you tuck into specially-created holiday dishes at our restaurants or experience our brand-new festive takeaway item – perfect for Christmas get-togethers at home. Add colour to the season with novel culinary creations – like Turduckens, Turkey Wellington, Japanese fusion specials, picture-perfect masterpieces and more. Enjoy 30% off when you pay with Mastercard for November dining and takeaway purchases! Terms and conditions apply.

The popular Aqua Gastronomy dining experience has also been extended till the year end with a refreshed menu and thematic décor inspired by the beauty of winter and the joy of the festivities. The pop-up dining venue has transformed into an enchanting underwater winter wonderland, with an igloo-like dining pod offering sweeping panoramic views of over 40,000 marine animals.

Can't wait to have a Merry Bubbly Christmas? Click here! P.S.: Don't forget to share your #RWSBubblyMoments with us on social media.
Despicable Me and related characters are trademarks and copyrights of Universal Studios. Licensed by Universal Studios. All Rights Reserved. Sesame Street ® and associated characters, trademarks and design elements are owned and licensed by Sesame Workshop. © 2020 Sesame Workshop. All rights reserved. Madagascar © 2020 DreamWorks Animation L.L.C. All Rights Reserved. Universal elements and all related indicia TM & © 2020 Universal Studios. All Rights Reserved.