Published: 23 October 2020

Spooky Halloween Bites to Sink Your Teeth into at Universal Studios Singapore
What's Halloween without trick-or-treating, great costumes and . . . FOOD! Yup, we've gone all out with favourite characters in Halloween-themed outfits, candies, and even our food and drinks at Universal Studios Singapore have undergone a bloodcurdling transformation!

Dig into a spread of eye-popping Halloween-themed eats at outlets throughout the park, but only after you're done sharing photos of them on Instagram, of course. Here are our top eerie picks!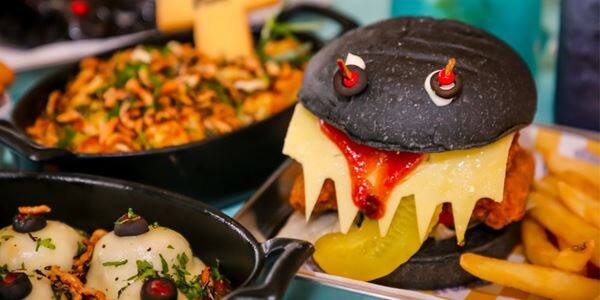 Monster Burger
Will you bite first… Or will it? Don't be afraid to chomp on this big, black burger with menacing eyes — it's piled high with two crispy and juicy chicken patties, lettuce, tomatoes, cheddar cheese, and slathered with BBQ sauce.

Available at Mel's Drive-InTM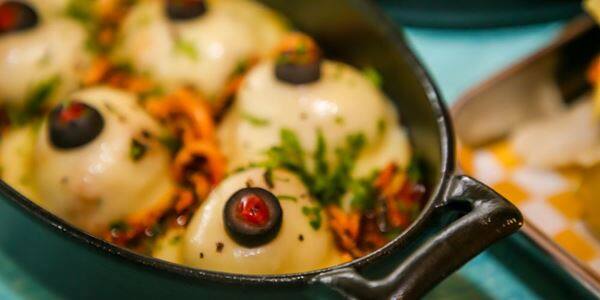 Eyeball Meatballs
This may just be our most Instagram-worthy dish yet. All eyes are on you (literally) as you enjoy this devilish creation featuring house-made beef meatballs, tomato sauce and melted cheese. It's so delicious, you won't be able to take your mind or eyes off it.

Available at Loui's NY Pizza ParlorTM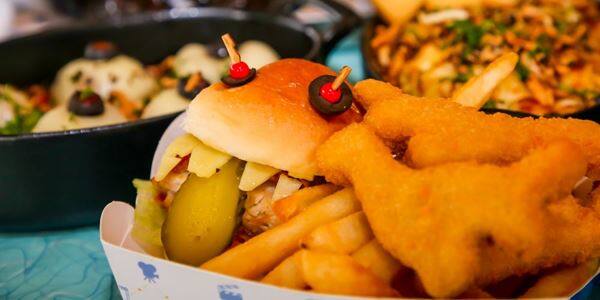 Monster Slider
Of course, we haven't forgotten about the little ones. For kid-sized creepiness, the Monster Slider ticks all the boxes with its single crispy chicken patty, gherkin pickles and cheddar cheese. We've even included a family of ferocious dinosaur nuggets for good measure.

Available at Mel's Drive-InTM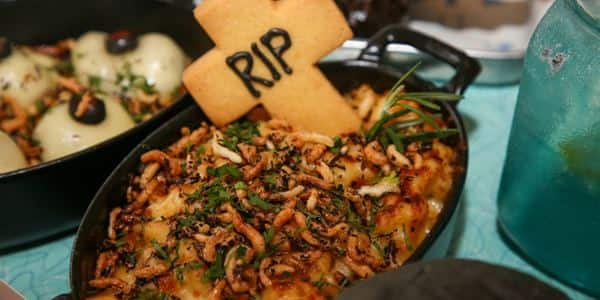 Rice From The Dead

Bring your taste buds back to life with our ghoulishly-good baked rice dish.. if you dare. Part the puffed wild rice with your fork and you'll find that something lurks within... A yummy combination of macaroni, minced beef in tomato sauce and cheese, that is! Just be careful.. You may get addicted.

Available at Loui's NY Pizza ParlorTM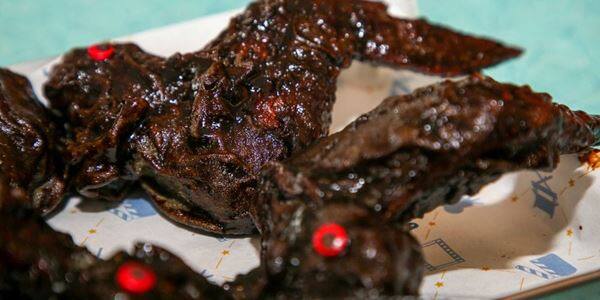 Wings of Darkness

When dark forces spread their wings, it's time to run - to Universal Studios Singapore! Order these charcoal-battered chicken wings with ebony black BBQ sauce for the ultimate Halloween snack.

Available at Goldilocks
See you over at Universal Studios Singapore!


Purchase your admission tickets now!
*Not applicable with any other discounts & promotions. Not available on Public Holidays & selected super peak dates. Management reserves the right to substitute promotional item for product of equal value without prior notice. All items are subject to prevailing taxes and GST.