Published: 12 April 2021

What Kind Of Tropical Vacationer Are You?
Are you're a tropical escapist who appreciates idyllic staycations (and holiday #OOTDs), an explorer with a thirst for adventure or an adrenaline junkie with a need for speed? Or are you a little bit of everything? Well, you'll find out when you come Frolic in the Tropics for your next Singapoliday! From unique staycation activities to go-karting at Singapore's only indoor karting circuit, there's definitely something for every tropical vacationer to indulge in at Resorts World Sentosa.


1.
For Tropical Escapists: Idyllic staycations

If all you want to do is soak up the sun and chill, overnight tropical joy is just a stone's throw away at the resort. Savour the luscious taste of the tropics with Fratelli's Italian spin on Hawaiian dishes when you book the Island Delights package, or as part of the Island Wonder experience, come stay with us and wind down next to sparkling pools surrounded by lush greenery, get up close and personal with the marine life of S.E.A. Aquarium, and discover their wondrous secrets in an exclusive Behind the Panel: SEAAcrets Edition tour.

No matter which experience you opt for, one thing's for sure – it's time to leave behind the hustle and bustle of everyday life. Plan your very owns Island Escape with us here.
2.
For Explorers: Tropical adventures with 100,000 marine animals

Aquatic adventures await at S.E.A. Aquarium for the earnest explorer! Let your senses guide you as you follow five legendary tikis along an enlightening trail, and befriend the tropics' most fascinating marine animals along the way. Look out for the raccoon butterfly fish, yellow tang, and slingjaw wrasse! And if you're in luck, you'll also get to see amazing tiki warriors – dutiful protectors of the seas – feed our marine animals in a dazzling spectacle. Oh, and don't miss out on getting your wefie taken with our adorable manta ray mascots in their island costumes... Right next to a dramatic volcano display. Book your adventure here.
3.
For Fun Lovers: Thrilling fun in the sun

For lovers of fun, tropical thrills await at Universal Studios Singapore. Aside from going on exhilarating rides and nibbling on island-themed treats, you'll definitely want to meet King Kahula, the fast-talking and music-loving tiki. He's passionate about welcoming guests to his island during his interactive meet-and-greet, and his cheeky have tickled many a funny bone. As for your favourite characters, fret not – they'll be dressed for the occasion in their sunny outfits. And don't miss the sparkly debut of Guy Diamond from DreamWorks Animation's Trolls! Time to have fun here.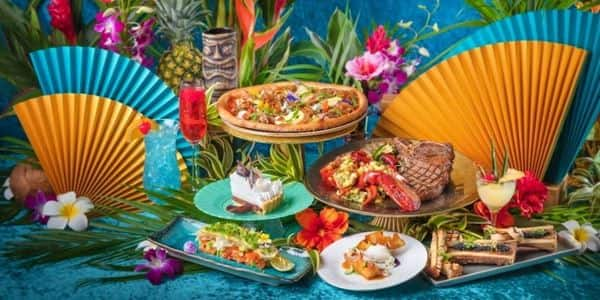 4.
For the Foodies: Ono-licious eats

Do you live to eat? Take a break from the fun and thrills around the resort by digging into a special spread of ono-licious tropical treats that'll have you taste sunrays and sea breezes in every bite. From yummy island flavours around Universal Studios Singapore to handmade wood-fired pizzas and coconut-flavoured desserts at Fratelli, your taste buds will be in for a tropical treat. As for meat lovers, the sumptuous five-course set tasting menu at Osia Steak & Seafood Grill will certainly appeal to your taste buds… Feast heartily on grilled bone marrow, steak, lobsters, seasonal cocktails and more.

Psst.. Enjoy 40% off these exclusive menus at Fratelli and Osia Steak & Seafood Grill when you pay with Mastercard®. Simply make a reservation here using the promo code "RWSMC40".
5.
For Adrenaline Junkies: Circuit Tiki

Fuel your need for speed at Circuit Tiki, Singapore's first ever indoor karting circuit at Resorts World Sentosa! Yes, in case you haven't heard, we've teamed up with KF1 Karting to bring to you lots of adrenaline-pumping fun (even if you don't own a driving license!). Head on down to RWS Carpark East, where you'll be able to blaze past vibrant tiki pillars along the 550m-long track, and challenge yourself with 23 nerve-wrecking corners. Click here for more information.
6.
For Shutterbugs: Join our Instagram contest!

Love having your #OOTD taken? It's time to get rewarded for it – snap a photo of yourself in your sunniest tropical paradise outfit at RWS, upload it onto Instagram with the hashtag #FrolicinRWS, follow @rwsentosa, and tag three friends to stand a chance at walking away with our weekly prize!