Published: 15 September 2021

Feng Shui Inn: All you need to know about this authentic Cantonese Restaurant in Singapore
Love your dim sum, perfectly-charred barbecued meats and nourishing double-boiled soups? Well, discerning foodies in Singapore often visit fine dining Cantonese restaurant Feng Shui Inn to get their fix of these quintessential Cantonese delights - here's why.

P.S.: Feng Shui Inn has moved from its original location at Crockfords Tower into the lobby of Equarius Hotel! For the latest updates, click here.
1.
Authentic Cantonese cuisine

At Feng Shui Inn, the Cantonese delights are as authentic as they can get. After all, the restaurant is helmed by Executive Chef Li Kwok Kwong, who boasts over 45 years of culinary experience under his belt. Originally from Hong Kong, Chef Li spent more than two decades at Chinese restaurant Wah Lok before joining Resorts World Sentosa to scale greater heights. The restaurant awards garnered during Chef Li's tenure are testament to his culinary excellence.


2.
Extensive selection of teas

From Jasmine Pearl tea to Alishan Oolong tea, Feng Shui Inn offers a variety of exquisite teas to complement your meal. The restaurant staff will be happy to recommend one according to your taste preference.

Our personal favourite is the Imperial Pu Erh tea. Known for its distinctive, ripe and earthy flavour, with a fruity finish, the Imperial Pu Erh tea is a perfect complement to the yum cha experience. In addition to the unique flavour, the tea also possesses several health benefits - increasing energy, cleansing toxins, aiding in weight loss and more.


3.
Seasonal delights

Festivities like the Lunar New Year and Mid-Autumn Festival are the perfect time for Chef Li and his culinary team to get creative with seasonal menu items - from yusheng to mooncakes and more. Fun fact: Chef Li often incorporates flavourful and nutritious ingredients in his exciting and delicious creations.


4.
Plenty of must-try dishes

Unsure about what to order during your visit? We've gotten Chef Li to recommend some must-try dishes! Here are five dishes you won't wanna miss out on.


Lunch Exclusive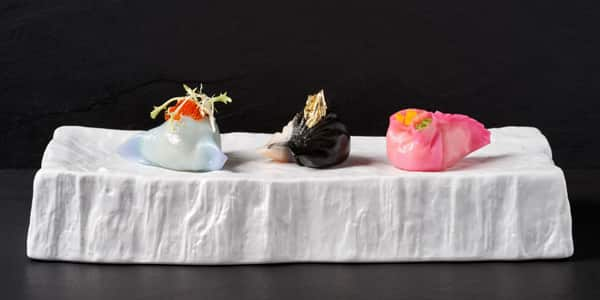 Steamed Sea Cucumber Dumpling, Chinese Parsley
This exquisite signature dim sum is an innovative creation of modern, healthy food. Not only is it beautifully coloured by butterfly pea flowers, it's also stuffed with premium sea cucumber and live prawns cooked with chicken fat. With the various health benefits from butterfly pea flower and zero fat content in the sauce, these dumplings are truly a guilt-free indulgence.

Steamed Marble Dumpling, Minced Lobster, Yellow Chives
Another signature dim sum of Feng Shui Inn's would be the Steamed Marble Dumpling with minced lobster and yellow chives - an unusual combination that works in its favour. And in case you're wondering, the marble effect is achieved with octopus ink!

Steamed Japanese Wagyu Beef Dumpling
Dining at Feng Shui Inn can't get any more luxurious with its signature dim sum, the Steamed Japanese Wagyu Beef Dumpling. Dyed a beautiful red with organic Beetroot juice, it is a must-try for that melt-in-your-mouth goodness.


Dinner Exclusive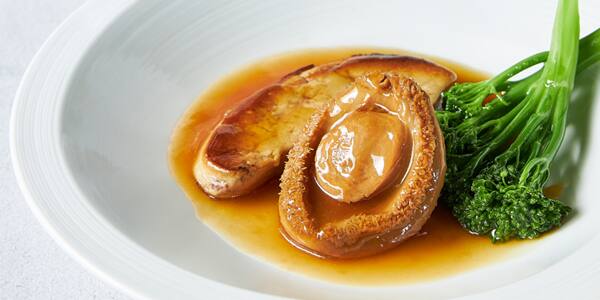 Braised Australian Abalone, Pan-fried Foie Gras
Simmered for over 4 hours and boiled with more than 8 kinds of natural ingredients, such as Jinhua ham, scallops, and chicken, the braised 6-head Australian abalone with pan-fried foie gras is another must-try at the restaurant. The delicacy - inspired by both Chinese and Western flavours - is sure to impress.


Lunch and Dinner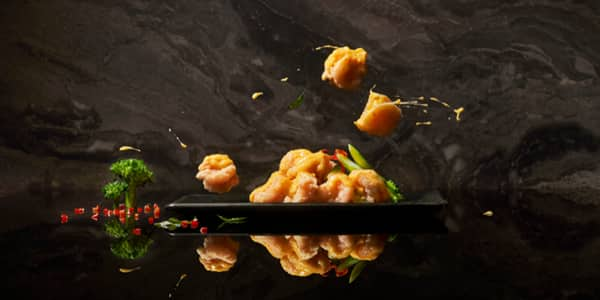 Crispy Prawn with Salted Egg Yolk, Butter Cream Sauce
It's probably no surprise that this ubiquitous dish can be found at Feng Shui Inn. It is, however, not your regular salted egg yolk dish. Specially prepared by Chef Li, it's a healthier (but no less delicious) option tailored to suit health-conscious diets.


5.
In-resort delivery services

Did you know? Feng Shui Inn also offers in-resort delivery services with a minimum spend of SGD40 - perfect if you're on a staycay at one of our hotels and craving for some authentic Cantonese cuisine from the comforts of your hotel room. Simply call +65 9152 4071 to place your order and delivery will be made within 45 minutes after order is placed.

Enjoy the 'Colours of Canton' (Weekend Unlimited Dim Sum Lunch) at only SGD68++ for adults, and SGD36++ for children (6 to 11 years old).

Reserve a table now