Published: 26 March 2021

Clock Over 10,000 Steps and Discover Lesser-Known Sights in RWS
Experts say 10,000 steps a day will keep you in good shape, but we know it's almost impossible to reach that goal, especially when you're working from home most of the time and you can get almost everything you need in a matter of clicks.

Here at Resorts World Sentosa, however, it's easy to get active and get your heart rate up - especially if you're trying to pay back for that weekend of feasting! We share the paths and ways you can clock in more steps to hit that 10,000 count. Along the way, you'll discover lesser-known nooks and corners which will make your journey to the attractions, hotels, and restaurants even more fascinating! Look out for these landmarks as you explore the resort: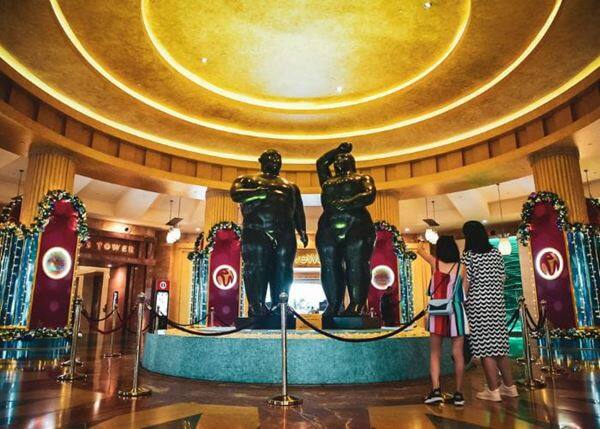 Hotel Michael to Festive Walk: 450 steps
The first thing you may notice near Hotel Michael are these large, rotund statues. These are the works of Fernando Botero, a famous Colombian artist known for his signature style of depicting objects and animals in oversized and exaggerated dimensions. The sculptures, titled Adam and Eve (try and spot the forbidden fruit!) are displayed near the entrances to both Hotel Michael and Crockfords Tower. The resort is adorned with many art pieces by acclaimed artists such as Space Elephant by Salvador Dalí, The Thinker by Auguste Rodin, and the Armonia Chandeliers by Dale Chihuly.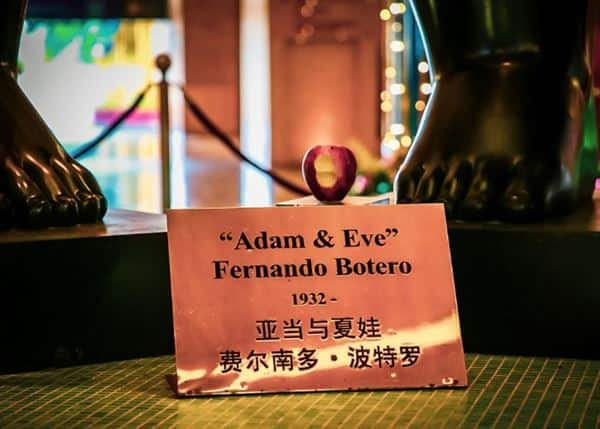 The sculptures, titled Adam and Eve (try and spot the forbidden fruit!) are displayed near the entrances to both Hotel Michael and Crockfords Tower.
Festive Walk to Forum: 600 steps
Festive Walk is easily identified through its flight of stairs (more calories burn) and the gallery of restaurants including family-friendly Italian restaurant Fratelli, contemporary Japanese restaurant Syun, Osia Steak and Seafood Grill, and more. If you're into greenery, Festive Walk is home to some stunning plants with beautiful foliage such as giant Monsteras, Fiddle Leaf Fig trees, Calatheas and more! As you explore the Forum across two levels, you'll discover a plethora of dining outlets (Putien, Duckland, Hard Rock Café, to name a few) and other amenities such as ATMs, toilets and baby changing rooms.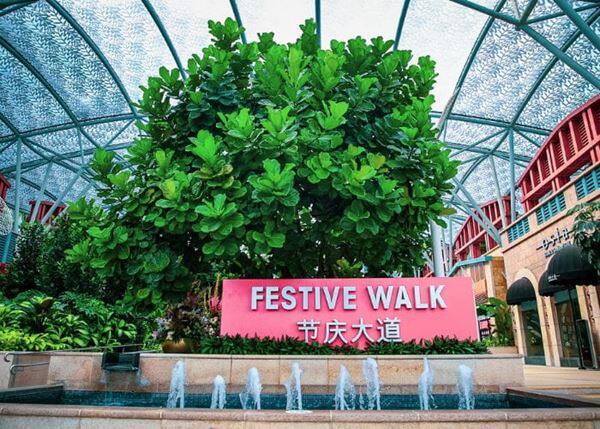 Tucked away next to llaollao frozen yoghurt is a neat section featuring vending machines stocked with a variety of items including cup noodles, fresh coconut (yes, the fruit!), drinks, ice cream and even essentials such as face masks.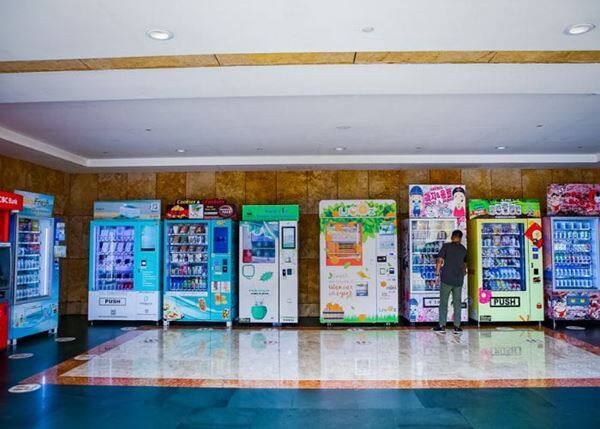 S.E.A. Aquarium ticket counter (currently closed) to entrance of S.E.A. Aquarium: 450 steps
While walking towards S.E.A. Aquarium, admire the waters and surrounding views of VivoCity shopping mall, Sentosa Express monorail and even the cable car. Docked alongside S.E.A. Aquarium is The Royal Albatross, a unique tall ship (sailing ship with high masts), with 4 grand masts and 22 massive sails. Only 150 tall ships are left working in the world with less than 10 in passenger service. The Royal Albatross is the only tall ship attraction in the whole of Asia region.
S.E.A. Aquarium: At least 2,000 steps
Enter and explore the marine realm of S.E.A. Aquarium, home to more than 100,000 marine animals of over 1,000 species, across 45 different habitats. With an added 1,000 square metres, S.E.A. Aquarium recently introduced three new animal habitats including the colourful poison arrow frogs and a never-before-seen coral propagation habitat. The entire attraction is easily navigable with ramps and elevators, so it is wheelchair- and stroller-friendly. You can find out more about the resort's family-friendly facilities in this article.

S.E.A. Aquarium ticket counter (currently closed) to Universal Studios Singapore: 200 steps
As you head over to Universal Studios Singapore, make a quick stop at Malaysian Food Street, which features the most "sedap" (delicious) street food from Malaysia's most famous hawkers, gathered in one air-conditioned location with a unique old-colonial-town ambience.
Universal Studios Singapore: At least 5,000 steps
Southeast Asia's first and only Universal Studios theme park needs little introduction. When our social media team was tracking the number of steps in the theme park (yes, for real!), the walking journey was based on just one complete round across the seven zones. With a whole day in the theme park enjoying the thrilling rides, attractions and even meeting your favourite characters, we are certain you can clock in more than 5,000 steps especially as you navigate the smaller Instagram-worthy alleys, the immersive ride queue areas and more! Wanna check out Universal Studios Singapore's map, wait times for rides, or know when your favourite characters will appear? Get all the information you need at your fingertips by downloading the official Universal Studios Singapore mobile app on the App Store or Google Play. And if you need access to WiFi within Universal Studios Singapore, simply log on to GuestWifi@RWS!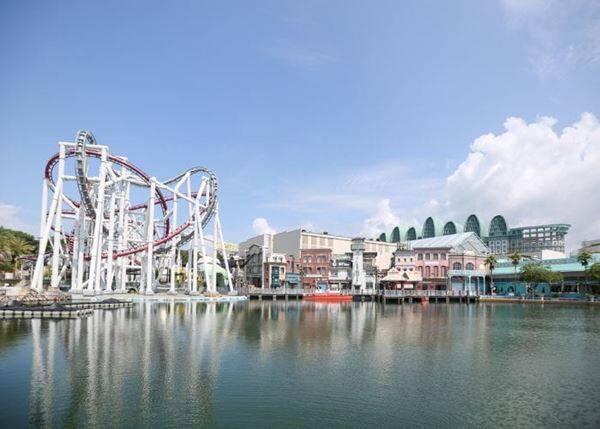 As you explore Universal Studios Singapore, look out for the lagoon which has a storage capacity of about 13 Olympic-sized swimming pools (about 32,000m³), in which rainwater and condensate water from air conditioning systems are stored. The water is used for landscape maintenance and water features.


Ready to clock your daily 10,000 steps with us? Don't fret about the numbers; stay active, embrace the spirit of adventure and look out for these interesting sights at Resorts World Sentosa the next time you visit us with your loved ones!
Battlestar Galactica TM Universal Studios & © 2021 Universal Content Productions LLC. All rights reserved. UNIVERSAL STUDIOS, UNIVERSAL STUDIOS SINGAPORE, Universal Globe logo, and all Universal elements and related indicia TM & © 2021 Universal Studios. All Rights Reserved.