Published: 3 March 2023
RWS S.E.A. Aquarium's Dive Cleanup 2022 at Pulau Hantu West
4 September 2022 - The S.E.A. Aquarium's Conservation and Research team and Dive team collaborated with Our Singapore Reefs, a local marine conservation community group, to organise a dive cleanup off the shores of Pulau Hantu West. Of the 17 participants present, 14 dived underwater while the rest supported the operation from the surface. After a safety briefing by the dive team and an operation briefing by Our Singapore Reefs on board the Dolphin Explorer, the divers split into two main groups and descended into the waters to begin picking up marine litter.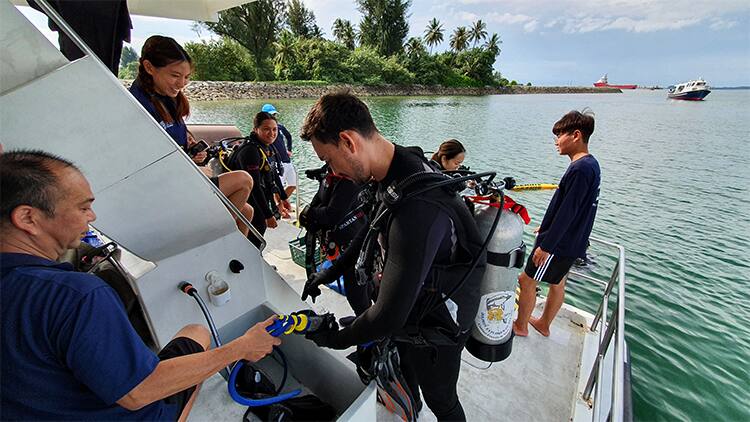 In one 40min dive, participants collected trash consisting of everything from food wrappers and cable ties to fishing lines, hooks and weights, as well as one well-rusted heavy iron picket found on the seabed. Data from the cleanup was uploaded online to PADI's Project Aware database, one that aims to empower the global dive community and drive ocean conservation action through citizen science.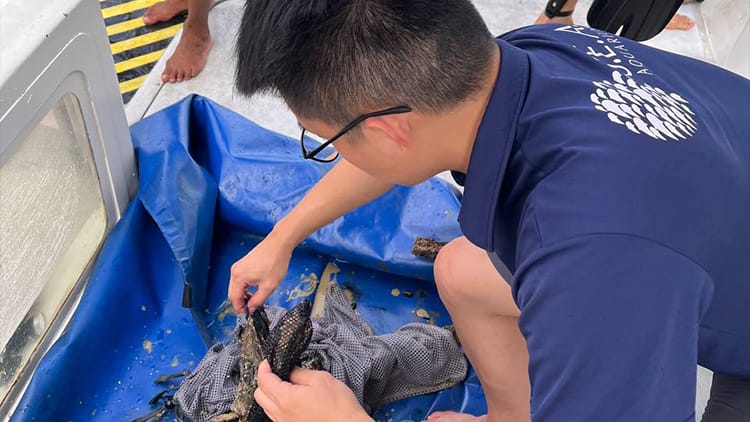 A large proportion of the marine litter collected were discarded fishing gear. These lines, nets and hooks present a danger to marine biodiversity, as they inadvertently lead to 'ghost fishing', where marine animals are trapped and eventually succumb to suffocation and other conditions. For instance, in June 2021, twelve black-tip reef sharks were found entangled and dead in an abandoned gill net on Pulau Semakau. While dive cleanups might mitigate some of these threats, it is ever-important to engage fishermen and encourage responsible fishing practices.
While they worked, the dive cleanup participants were treated to sights of local marine biodiversity like sea urchins, nudibranchs, feather stars, hard and soft corals and puffer fish! The experience served as a reminder of the rich marine life found in Singapore's waters, and the need to keep their habitat free of marine litter.