Published: 5 March 2021

7 Quirky Things You Didn't Know About RWS Hotels
Planning for an island getaway with your nearest and dearest at Resorts World Sentosa? From unique art "galleries" to Singapore's only underwater hotel experience, make it a point to notice these quirky aspects of our hotels during your staycation!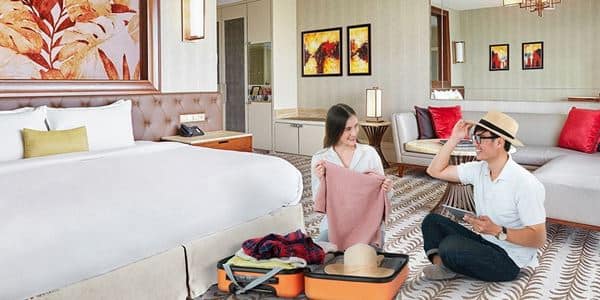 1.
"Michael" or "Graves"?

Art lovers will be familiar with Hotel Michael – after all, the luxurious hotel is a namesake tribute to one of America's greatest contemporary architects, Michael Graves. He took care of the smallest details, right down to the cabinet pulls and a signature font for the signage. Graves even drew patterns by hand for textiles, designed built-in guestroom furniture and accessories, used his paintings for mosaics in the guest bathrooms, and painted murals for the lobby and ground floor corridor. However, in case you're wondering why the hotel is named after his first name instead of his last name, the reason is pretty simple – "Hotel Graves" just doesn't sound as welcoming, does it?
2.
Art trail

Speaking of art pieces, our hotels are proud homes to several artworks by many a renowned artist or sculptor. Spot Brazilian artist Romero Britto's artwork at Festive Hotel (currently unavailable for staycations), including a commissioned piece of Universal Studios Singapore behind the hotel's concierge. Some are even for sale!
3.
Singapore's only underwater hotel

Whilst you may have seen stunning snaps of our Equarius Ocean Suites on Instagram, did you know that Resorts World Sentosa is the only place in Singapore that boasts an underwater hotel experience? Yup, our integrated resort is home to 11 exclusive suites that offer the best of both land and sea – there's even one decorated with Japanese contemporary art! Designed like a deluxe two storey townhouse, the upper level of each Ocean Suite features an open living area that leads out to an outdoor patio and jacuzzi, whilst the lower level offers guests a sublime underwater view of over 40,000 marine life in the comfort and privacy of their own suite. And if you're a fan of Japanese contemporary art.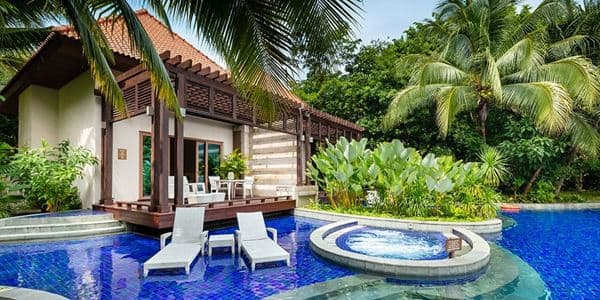 4.
A Bali-esque holiday

Seeking some serious tropical vibes? There's no better place in Singapore for that than our Equarius Villas with its resort-like surroundings! Come live the #beachbum life with us, complete with picturesque views and creature comforts. Other perks include 24-hour butler service, and buggy rides on standby to get you places.


5.
"Aquarius" Hotel, please

Much to our amusement, the names of our hotels are often butchered. According to our research data, Equarius Hotel has often been referred to as "Aquarius" Hotel, and Crockfords Tower has been mistaken for "Crawford" Towers… Well, now you know the difference! Also, here's a fun fact: Did you know that "S.E.A. Aquarium" stands for "South-East Asia Aquarium"?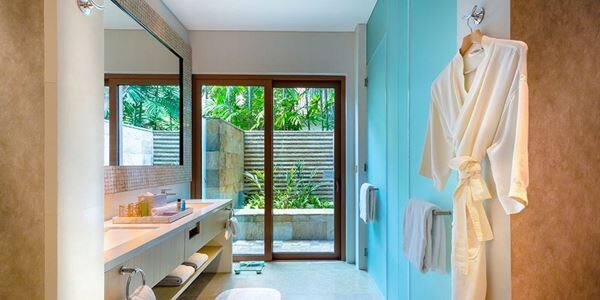 6.
Going green

At the resort, we strive to go green where possible. For example, did you know that all wet amenities (such as shampoo, shower gel, moisturizer, and conditioner) provided in our hotel rooms are paraben-free? They are also housed in PET plastic bottles, which are highly recyclable. As for dry amenities such as shaving kits and shower caps, they are all packed in recyclable materials, such as FSC certified or stone paper packaging.


7.
Just how many hotels are there?

To set the record straight, the answer to that is six. There are five unique hotels within Resorts World Sentosa, as well as one more – Genting Hotel Jurong – located in the Western region of Singapore, owned by parent company Genting Singapore Here's the full list:
Crockfords Tower
Equarius Hotel and Villas – which consists of Equarius Hotel, Equarius Villas, Equarius Ocean Suites, Equarius TreeTop Lofts
Festive Hotel
Hotel Michael
Hard Rock Hotel Singapore
Genting Hotel Jurong
Craving a staycation right now? Check out our attractive packages here for your next Singapoliday!