Lee Thang Yin, Estate Management
Maintaining a safe haven for plants and native wildlife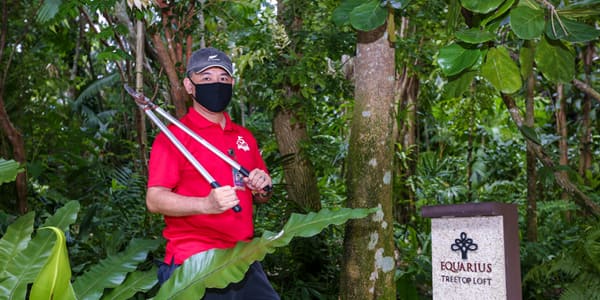 Lee Thiang Yin, Estate Management

Did you know there are more than 11,000 trees and plants, comprising about 100 fascinating native species within the resort? As a landscape manager with RWS for almost a decade, Lee Thang Yin oversees the resort's lush greenery which not only add beauty and charm with their diversity, they provide safe havens for local wildlife.
His estate management team takes care of a whopping 49 hectares of landscape, including 2.9 hectares of protected secondary forest in the west zone, where Equarius Hotel and Beach Villas are situated.
"I'm happy to be able to go to work and see my plants, even when the resort is closed to visitors," shared the 45 year old. "I believe being close to nature can have healing and therapeutic effects. Lately, in the absence of visitors, it has been easier for us to spot local wildlife such as oriental pied hornbills, white-breasted water hens, and striated herons!"
During Singapore's circuit breaker phase, it has been all hands on deck for Lee's team. With a lean team of five, they have had to step up their efforts, including covering the manual work typically handled by foreign workers. These include clearing of fallen leaves and branches from landscaped areas, as well as checking on the irrigation and watering of plants. The health of trees has also been a priority for the team.
"I miss our foreign team mates," confided Lee. "They've always been part of the team, and we've always respected and appreciated them for their contributions."

"It feels different going to work now. The shuttle buses to the resort are unusually empty and quiet. There isn't the usual laughter from guests, and it's even more apparent in the attractions, where you feel completely alone."

Landscape management work is usually carried out behind the scenes. However, the work they do is essential not only to ensure the survival of the flora and fauna, but for the safety of team members. So the next time you're back at the resort, do take a closer look all around and appreciate the greenery around you!